Why Slow Dreams for Your Wedding in Italy?
Slow Dreams is a team of British, American & Italian weddings planners in Italy with offices in Europe (Italy) and the US.
There are numerous reasons for having Slow Dreams as your wedding planner in Italy.
WE MAKE WEDDINGS MEMORABLE & SUCCESSFUL
Scores of testimonials - To best understand our success in managing & planning Italian weddings, look at our weddings Italy testimonials, and Tripadvisor posts. We have been successfully managing weddings in Italy since 2003.
A large choice of venue types - regardless if your wedding is a luxury wedding in Italy or a budget wedding, all our venues are in stunning locations with wonderful views - some of the finest views in Europe.
Careful wedding management - All of our staff have lived many years in Italy. To minimize miscommunications and errors in general, we always assign multiple wedding planners to every wedding who repeatedly cross check everything.
Unusual Italian wedding venues - To make weddings even more memorable at highly affordable prices, as well us the usual type of wedding venues in Italy (castles, villas, hotels, etc.), we offer some of the most memorable, and certainly most different ideas for a wedding in Italy - e.g., see our "Unusual Italian Weddings" - these include sailboat, deserted beach and deserted island, cliff-tops, a lovers walk on the sea, agriturismos (family farms). We can even arrange an "armada" of boats to one of Italy's most secluded and dramatic cliff surrounded beaches.
WE MAKE ITALY WEDDINGS AFFORDABLE
Low cost of services - since we bring a lot of business to the various service providers (florist, photographer, etc.), we strongly negotiate prices with then and, importantly, publish those prices on this site for you to see even before contacting us. Have a look at our cost and prices (all taxes are included) - you will find these costs to be simply low. The average cost of an Italian wedding with Slow Dreams is a fraction of the average cost of a wedding, for example, in the UK or the US.
Italy's Best Kept Secret - We offer a lot of venues in the Coast of Maratea & The Cilento - Traveler Magazine says "Maratea is Heaven - It's The Amalfi Without The Crowds.... Italy's Best Kept Secret". beside being one of the lower cost areas of Italy, most mayors of this region will conduct outdoor ceremonies at the venue of your choice - saving the significant cost of having a symbolic ceremony in addition to the civil town-hall marriage costs.
A wide range of differently priced venues - there are venue prices to fit all types of budget from the low to the extremely high. See list of venues.
Special Offers - these range from special offers from individual venues to local tourist board rebates for having your wedding in their region - this rebate can significantly lower the cost of your wedding.
Flexibility - not a subject discussed much in wedding web-sites - but so important for peace of mind, so important for a relaxed wedding. Most of our Italian wedding venues offer a great deal of flexibility.
Venue Choice - We offer a large variety of venues, and types of Italy Weddings.
Marry Where You Want - in many of our venues, the mayors and ministers will marry you at the venue of YOUR choice - hotels, villas, churches, beaches, etc. You are NOT restricted to just town-halls and Catholic churches, as is the case for most Italy weddings.
No Minimum Stay - many wedding venues in Italy require a 6 or even 10 day stay. However, most of our venues have no minimum stay - however, we do recommend coming a day or two early during the week to lodge paperwork at the town-hall and to simply chill-out.
Outdoor Weddings Italy - Many of our mayors and ministers offer outdoor ceremonies. Unfortunately Catholic weddings in Italy are still restricted to a church - however, we do offer a great choice of beautiful and historic churches.
Last Minute Weddings Italy/Elope to Italy - US citizens can have last minute expedited approval just by bringing their passports - by "last minute", we mean just a few days - total flexibility. See our no hassle approval. Any other couple who has their embassy's approval (i.e., they have Nulla Ostas) can take advantage of this last minute wedding service. For those who cannot get last minute approval, we offer symbolic ceremonies from either a local mayor (identical to a legal Italian wedding, but not legal) or a minister or simply have a friend be the celebrant.
Non-Catholic Church Italian Weddings - We have churches that allow for non-Catholic religious weddings, including, for example, the Church of Our Lady of The Snow & Olives, a small historic church with ancient frescoes situated alone on a mountain-top cliff overlooking - the sea, the historic red-tiled roof town of Maratea with its 44 churches, the world class Coast of Maratea, and two national parks, the Cilento and Pollino.
Bring Your Own Celebrant - Bring your own priest (most of our churches allow this, but not all), minister, rabbi, etc.
Italian Weddings For Woman Divorced LESS than 300 days - Most of our mayors ignore the 300 day arcane law for Italian weddings that prohibits woman from marrying within 300 days of their divorce.
WE MAKE ACCESS TO REST OF ITALY EASY
Many couples and guests want to attend the wedding then move to see our parts of Italy they have dreamed about. There are excellent inexpensive high-speed trains services to Tuscany (Florence, Pisa, etc), Rome, Naples, Pompeii, Herculaneum, Paestum, Salerno (boat to Amalfi Coast), Sorrento, Sicily ferry boat, etc, etc.
Contact Our Wedding Planners in Italy
WE MAKE ITALY WEDDINGS OH SO ROMANTIC
Just look at our wedding in Italy slideshow to get some ideas.
CONTACT US - Get Proposal in 24 hours - We Will Send A Wedding Italy Proposal with Budget Within 24 hours.
WE MAKE YOUR ITALY WEDDING FUN
DESTINATION ITALY WEDDING PLANNERS- CONTACT US - Get Proposal in 24 hours For Proposal Within 24 hours
WE MAKE WEDDINGS IN ITALY RELAXED
Be It Sumptuously Elegant & Luxurious
Or, Be It Deliciously Romantic and Simple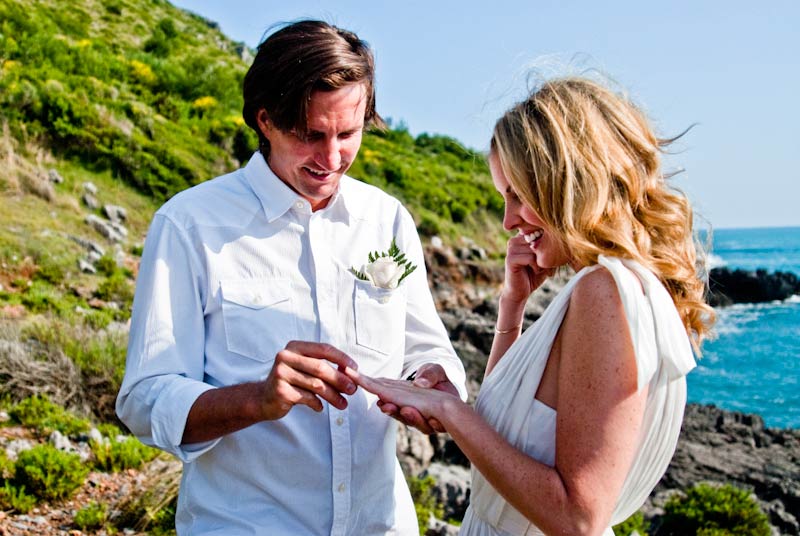 It Will Always Be Memorable & Relaxed
To make your wedding experience relaxed We will:
Meet you when you arrive at your hotel or villa
and go through the details in person

We will personally escort you to the town-hall

to lodge your approval paperwork for civil wedding,.

This site clearly lists ALL wedding costs, fees, and taxes

-

so you will have a solid idea of the cost of your wedding in Italy even before contacting us.

You can change your wedding in Italy contract significantly for most things right up to several weeks before the wedding. This eliminates the stress of wondering how many guests will come, what meals they want, etc. Also, we offer a three payment schedule with the last 50% due only several weeks before the wedding. See our policies and fees.

We care for your wedding guests. We have a concierge service, free of charge, that will make reservations for your guests for hotel, hair, make-up, spa, and airport transfers. This service is also there to personally answer your guests' questions - guests also want a relaxed & memorable experience as well.

Contact Our Wedding Planners in Italy
Our Wedding Venues in Italy

Last Minute Weddings in Italy

(expedited approval within 5 business days - best for US and Canadian citizens)

"Wee Hour" Party Venues