Weddings in Italy
Quick Links for Italian Weddings:
Hint: To get the most out of this web-site, check out the many slideshows at the top of most pages.
Slow Dreams is a team of British, American & Italian destination weddings in Italy planners, with offices in Italy and the US.

OUR DIFFERENCE - As well us the usual type of wedding venues in Italy (castles, villas, hotels, etc), we offer some of the most memorable, and certainly most different ideas for a wedding in Italy - e.g., see our "Unusual Italian Weddings".

OUR MAGIC - We specialize in weddings in Italy 's most magical of regions - these regions include The Coast of Maratea, The Cilento National Park, Northern Calabria, and Puglia (Apulia).

Traveler Magazine says "It's Italy's Best Kept Secret.....Maratea is Heaven - It's The Amalfi Without The Crowds" .

These regions are simply made for weddings - magical Italian weddings.

OUR COSTS FOR ITALIAN WEDDINGS - Unlike most wedding web-sites, this site clearly lists all costs, fees, and taxes.

See ALL prices & costs for destination weddings in Italy

OUR TRACK RECORD

Testimonials - See Our Many Wedding in Italy Testimonials

TripAdvisor Posts - Our Client TripAdvisor Comments on Our Italian Weddings

*******************************

OUR RESPONSIVENESS

Contact Our Wedding Planners in Italy for a Proposal Within 12 Hours

*******************************

Italian Weddings - Region Overview

Italy's Best Kept Secret - Coast of Maratea & The Cilento

This region offers many romantic venues for church (Catholic & non-Catholic) and for seaside and outdoor weddings in Italy.

See Our Stunning Slideshows on the Regions

The mayors and ministers in the regions will offer ceremonies at the venue of your choice. Every venue has at least one beautiful and historic Catholic church nearby, some of which can be used for non-Catholic weddings.

These regions are just to the south of the Amalfi coast; however, as well as being stunning and less-expensive, they are easier and faster to get to - with excellent road and rail service from Naples (many International airlines including EasyJet) and Lamezia Terme (Ryan Air & Alitalia). It's simply made for a relaxed and memorable Wedding in Italy - beautiful venues on or overlooking blue blue seas, dramatic cliff-surrounded beaches, soaring mountains, 3000 years of Roman & Greek history, ancient fishing villages, and market and resort towns in which to have fun.

****

Quick Links for Italy Weddings:

Apulia (Puglia) is for sun, sand, sea and thousands of years of history. its beaches and its sunshine compete easily with the best of the Caribbean - ideal for fun weddings in Italy. Its wines are now being recognized among Italy's finest. The city of Lecce competes with some of the great baroque cities of the north. It's seaside towns such as Santa Maria Leuca with their resplendent white villas simply sparkle in the constant southern Italian sun. See our venues for relaxed weddings in Apulia (Puglia).

There are two major airports - Bari and Brindisi.

*******************************
Weddings Italy - Details for Weddings in Italy
An Astonishing Choice of Destination Wedding in Italy Venues - ALL With Stunning Sea & Mountain Views - pick your type of venue - see list in center column ->
**
Our Mayors & Ministers Conduct Ceremonies at The Venue of YOUR Choice, not just town-halls
**
**
Church Wedding in Italy for Non-Catholic
**
No Minimum Stay Requirements for Italian weddings in this region
**
Elope to Italy - Last Minute Weddings in Italy
**
11 Years of Many Glowing Wedding Italy Testimonials
**
ALL Costs Are Detailed in This Site - Get Your Wedding in Italy Proposal Within 24 Hours
****
An Astonishing Choice of Venues for Your Wedding in Italy - Including Outdoor Weddings Italy
See All Our Venues for Italy Weddings
As well as the usual types of venues for Italian weddings - hotels, villas, castles, and beach venues - Slow Dreams offers a whole range of "Unusual Destination Italian Wedding Venues". Here are some different but perfectly idyllic ideas for a wedding in Italy, especially seaside weddings - A Lover's Walk right at the sea on the Coast of Maratea, a beach wine-bar and lido, an antique wooden sail-boat sailing along one of the world's most beautiful coasts, a remote beach that requires a boat to get it, agriturismos (small family farms), the middle of a vineyard on top of a cliff overlooking a blue sea, an ancient Italian barn wedding, a beach bon-fire wedding, cliff-top weddings, a couple of ancient convent buildings, simply Idyllic Italian Weddings.

In addition to many beautiful historic Catholic churches, we offer churches for non-Catholic weddings; e.g., an amazing historic church high on a mountain top overlooking the Mediterranean sea - for non-Catholic & Catholic weddings Italy.

We offer many ideas for Italian destination wedding venues types ideal for the very large to the very small weddings in Italy - see column to the right for all types - click on your choice. Check out all our ideas for Weddings Italy.
Beyond its intense beauty and 3000 years of Roman, Greek & Spanish history, and unlike the other regions of Italy, the mayors in these regions offer wedding in Italy ceremonies at YOUR choice of venues - all with literally brilliant blue blue seas and mountain views, in a region with 3000 years of Roman & Greek History, and, now lost in most of Italy, authentic Italian life.

Also, there is no minimum stay requirements in this region for Italy weddings. In addition to many historic and beautiful Catholic churches, we offer church weddings for non-Catholics. Our minister also offers non-Catholic religious weddings Italy at any of our outdoor wedding venues.

We will shortly be adding a new set of venues for Weddings in Rome and Weddings in Apulia (Puglia) .
Cost of Destination Weddings Italy - This Site Provides ALL Prices and Cost of Our Italian Weddings
See All Wedding in Italy Packages - Prices & Costs
Unlike almost all other sites for Italian weddings, the Slow Dreams site details ALL costs for Weddings Italy packages - including detailed reception menus for each venue, accommodations, photography, music, flowers, and fees. Also see local wedding subsidies funded by local tourist office.
Easier To Get To - Two International Airports
This area is easier and quicker to get to than many areas of Italy. Unlike areas such as the Amalfi, this area has excellent high-speed motorway (A3) and excellent inexpensive rail service (Eurostar, Intercity - and the astonishingly cheap regional services, and is served by two airports - Naples (many airlines including EasyJet) and Lamezia Terme (Ryan Air from Stansted, London and Alitalia) airports. The train service and motorway connects to Naples, Rome, Florence, Sicily, and all major Italian cities and regions.
As well as offering better value than most regions of Italy amidst world-class beauty, this region subsidizes ALL our foreign weddings as part of their tourism marketing efforts. See special offers for destination Italian weddings.
See details for a last minute Wedding in Italy

We need only a few days (week days) notice to arrange legal civil weddings - so eloping to Italy or last minute weddings to Italy are quick and easy .
We only arrange Italian weddings where we have staff located - as such, unlike many Weddings Italy companies, we NEVER subcontract the planning nor management of our weddings. We will meet you when you arrive at your hotel. For civil and non-Catholic weddings, we will escort you to the town-hall to finalize paperwork; and, we will be discreetly with you throughout your wedding day.
Flexible Contracts for Your Wedding in Italy
Planning a destination wedding in Italy for the distant future introduces uncertainty such as "How many of my guests will actually come?". Recognizing this, Slow Dreams' contracts allow very significant change right up until a minimum of 45 days before the wedding; thus, removing most of this uncertainty.
ALL PRICES & COSTS FOR OUR DESTINATION WEDDINGS ITALY ARE DETAILED IN THE SITE
Quick Link: SEE PRICES & COST OF WEDDINGS IN ITALY
See Our Full Slideshow on Regions & Some of Our Past Italian Weddings

Quick Links: VENUES REGIONS COSTS

Quote From Traveler Magazine

"Maratea is Italy's Best-Kept Secret........It's heaven, it's the Amalfi without crowds"

Have Your Wedding in Italy 's Best Kept Secret with Slow Dreams
Be It Sumptuously Elegant & Luxurious
Or, Be It Deliciously Romantic and Simple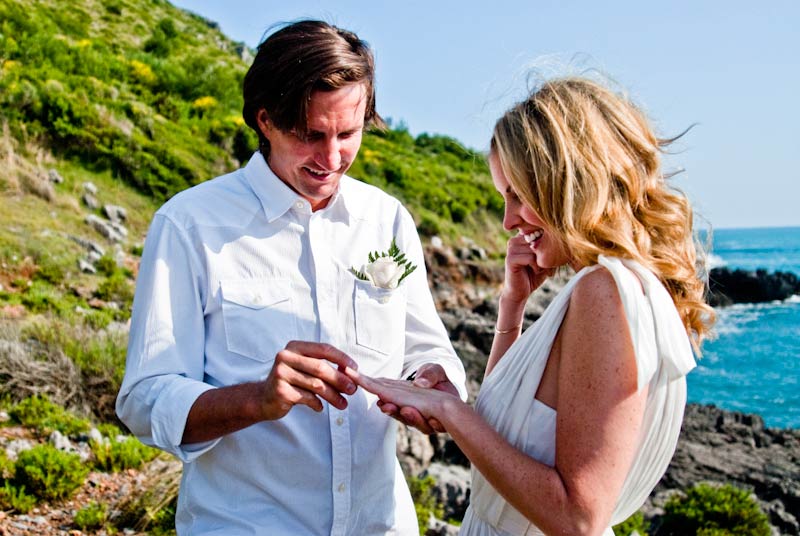 It Will Always Be Memorable & Relaxed
Weddings in Italy 's Most Beautiful Coast
Quick Link: SEE PRICES & COST OF WEDDINGS IN ITALY
CONTACT OUR WEDDING PLANNERS IN ITALY FOR A PROPOSAL WITHIN 12 HOURS
*********************************************
High End Custom Weddings in Italy

We also offer high-end custom designed weddings in Italy 's classical region and cities - these include:

Tuscany/Florence, The Amalfi, Capri, Rome, Venice and the Lakes.

These include the finest castle and villa weddings in Tuscany - most convenient for Florence, such as in Fiesole famous for its quintessential and iconic Tuscan villas.

Contact Our Wedding Planners in Italy to get prices/cost of a Wedding in Tuscany

****

These include weddings in Positano and weddings in Ravello. These wedding venues on the The Amalfi feature some of the most stunning hotels and villas in the world - the perfect fairytale venues for weddings in Italy. Amalfi towns include the incomparable Positano and Ravello.

Contact Our Wedding Planner in Italy to get prices/cost of a Wedding in Amalfi/Capri

****

This is a unique collection of the most fabulous palaces castles, villas, and five star hotels in or around Rome - see a few of our venues for weddings in Rome.

Contact Our Wedding Planners in Italy to get prices/cost of a Wedding in Rome

****

Again, we offer a wonderful collection of the most famous castles, villas, and hotels in the Italian Lake district for distinctive Italian weddings- see:

Contact Our Italian wedding planners to get prices/cost of a Wedding in Italian Lakes

****

See our venues for weddings in Venice, including the famous Hotel Cipriani.