Hotel Meraviglie
Get Venue Detail Apps








Support Apps



8 Very Private and Idyllic Seaside Acres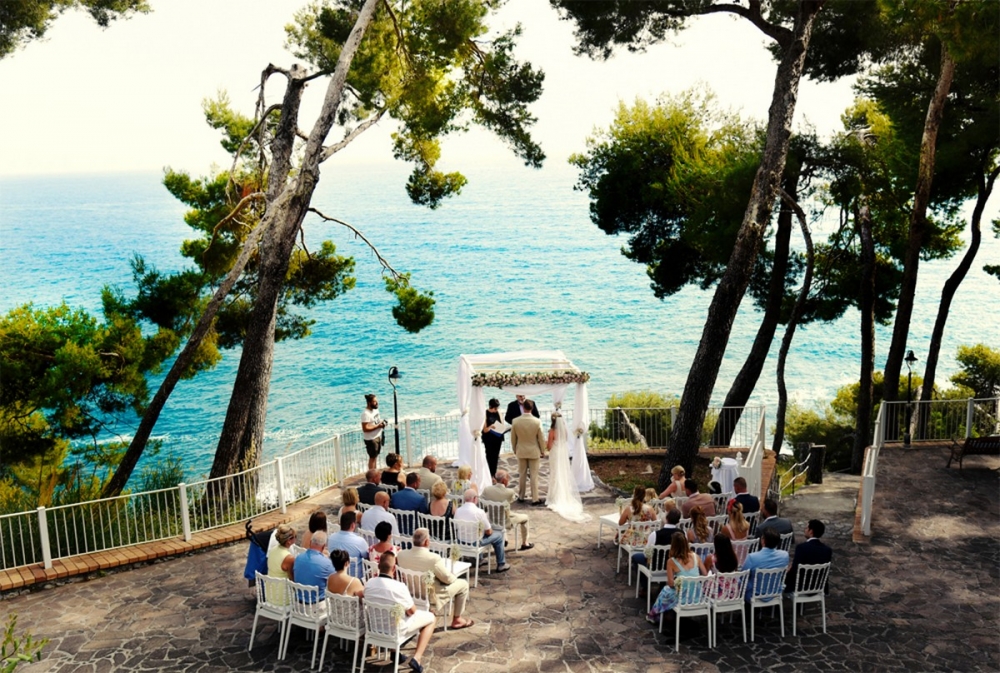 Venue Capacities
| | |
| --- | --- |
| Number of Rooms/Apartments | 24 |
| Max # people for ceremony | 100 |
| Max # people for reception | 100 |
| Min # people for reception | 25 |
| Max # people for accommodation | 56 |
| Min # people for accommodations | 2 |
| Min # days to book | 2 |
Overview
Hotel Villa delle Meraviglie sits one one of the most beautiful and private properties anywhere in Italy. It is located in the heart of the Coast of Maratea. It has a wonderful set of patios spread over the 8 acres offering excellent privacy for any size of wedding. From its shoreline the views are quite spectacular along the length of the Coast of Maratea. Booking the whole hotel (24 rooms) gives all the advantages of a large fully staffed seaside villa, but with much less cost.
This 24 room villa hotel is the perfect spot for gatherings. Towering over the villa is the Maratea Mountains, while at its foot lies the blue and crystal clear Mediterranean sea.
The fifteen private acres reveal a marvelous collection of woods (the wonderfully bulbous maritime pines), stone walled gardens with flowers and bushes in abundance, and endless runs of patios and stone pathways. Much of the delight for events will come from deciding which part of the event goes where. The choice is rich.
Although aesthetically beautiful, the owners have discreetly carved out children friendly niches - two pools and a playground. This coupled with acres of land for running free and the sea below make it more than children friendly.

Add Venue to Favorites
Area Info
Located in
Italy's last undiscovered, unspoiled area - literally stunning -
Coast of Maratea & The Cilento National Park
.
Traveler Magazine says "Maratea is Heaven - It's The Amalfi Without The Crowds.... Italy's Best Kept Secret".
It is just to the south of the Amalfi coast; however, much
easier, cheaper, and faster to get to
- excellent high-speed road (A3) and rail service from Naples (many airlines) and Lamezia Terme (Ryan Air & Alitalia).
How to Get Costs

Add Venue to Favorites
Typical Packages
To get a good idea of the total cost of a typical wedding at this venue, select "View" on the list of typical packages below for the package most resembling your requirements.
Tip:

Click on the text below to get detailed descriptions & costs:
Support Apps